You've found your dream home, and now you are in the process of closing. The home inspection can be one of the most anxiety-inducing parts of buying a new home or selling your home, with unforeseen home expenses being the reason. However, keep in mind the home inspection can simply be grounds for a negotiation, and closing is on the horizon!
What Exactly is a Home Inspection?
A home inspection is a cross-examination of the condition of a home. The goal of a home inspection is to give the buyer a full report of the homes condition (including aspects like the foundation of the home, pipe condition, electrical issues, etc.) to exist as a catalyst in helping the buyer prepare an offer. Costly repairs on a home will typically cause the buyer to offer less on a home.
What Should I Do to Prepare for a Home Inspection (a Buyer's POV)
As the buyer, the home inspection will be a key point in your buying process. To kick off the home inspection you'll need to,
Find an Inspector: We recommend using a platform like Angie's List to find your perfect home inspector. If there are certain features you'd like inspected more thoroughly or special requests during your inspection make sure to hire one that can accommodate these requests.
Take Notes:  The inspection can hold 

a lot

of information.  Take notes as you go to ensure you've captured all information. We then recommend listing in priority order so you know what repairs will need to be done sooner rather than later. Your inspector should be able to help with this process.
Dress Appropriately: You will likely be in some tight, dusty spaces during the inspection. Make sure you wear closed toe footwear and clothing items you don't mind getting dirty that are comfortable.
Ask Questions: If you have questions, ask them! Your home inspector is a specialist and full of information! Don't let them leave if you are unclear about a repair.
What Should I do to Prepare for a Home Inspection (a Seller's POV)
There are many things you can do as a home seller to prepare for an inspection to make it a smooth process. To help with the inspection process we reccomend,
Keep Your Home Clean: Navigating a cluttered home is difficult for an inspector and for potential buyers. Along with keeping your home clean, make sure you declutter & remove any potential obstacles.
Take Care of Easy Repairs: Swap out any lightbulbs that are out, tighten any door hinges, and check out that leaky faucet.
Relocate Children & Pets: Your home should be empty similar to your open house. Make sure children & pets have proper care lined up while your home inspection is being done. Home inspectors are known for being early, so make sure you empty out your home as soon as you can the day of the inspection.
Take Care of Pests: Have a bee hive on the deck that's been troublesome? Or ants invading your cabinets? Make sure to properly terminate & dispose of any pests for a better inspection.
Ensure Easy Access: Make sure any gates are unlocked or security systems are disabled so your home inspector can have easy access!
What is the Home Inspector Looking For?
Your home inspector is a specialist in all things that keep a home running. During your inspection they will examine key aspects of the home, and report back on any issues or repairs they find. Your inspector will check,
The Homes Structure: The homes foundation should be a firm layer of support but can often wear over time. Your inspector will likely check for cracks in the foundation or any there entry points that water can potentially come through. Keep in mind, structural issues can often lead to more long term problems and should be addressed relatively quickly.
The Roof: Your roof keeps your home safe from weather conditions. Your inspector will likely check for wear & tear, cracks or leaks, or any other problems that may let in undesired weather.
Leaks or Water Damage: One of the worst things for your home is water where it shouldn't be. Water damage can be caused by multiple issues like leaky pipes, foundation issues, etc. Water damage may also cause mold issues in the future.
HVAC: HVAC stands for Heating, Ventilation and Air Conditioning and is a key component of the home. The inspector will thoroughly inspect these systems to ensure your heat & air systems will function properly.
Pests: Your inspector will keep an eye out for any vermin like termites, bed bugs, or mice. Pests are often times found from the damage they leave behind,  and can drastically affect the price of a home.
Electrical Systems: Poor wiring can cause many issues including a house fire. Issues like exposed wires will likely need to be addressed by a professional electrician.
Plumbing Systems: Along with the electrical interworking of the home, your inspector will check the plumbing system as well. Plumbing issues can lead to water damage and cause household appliances to not function properly.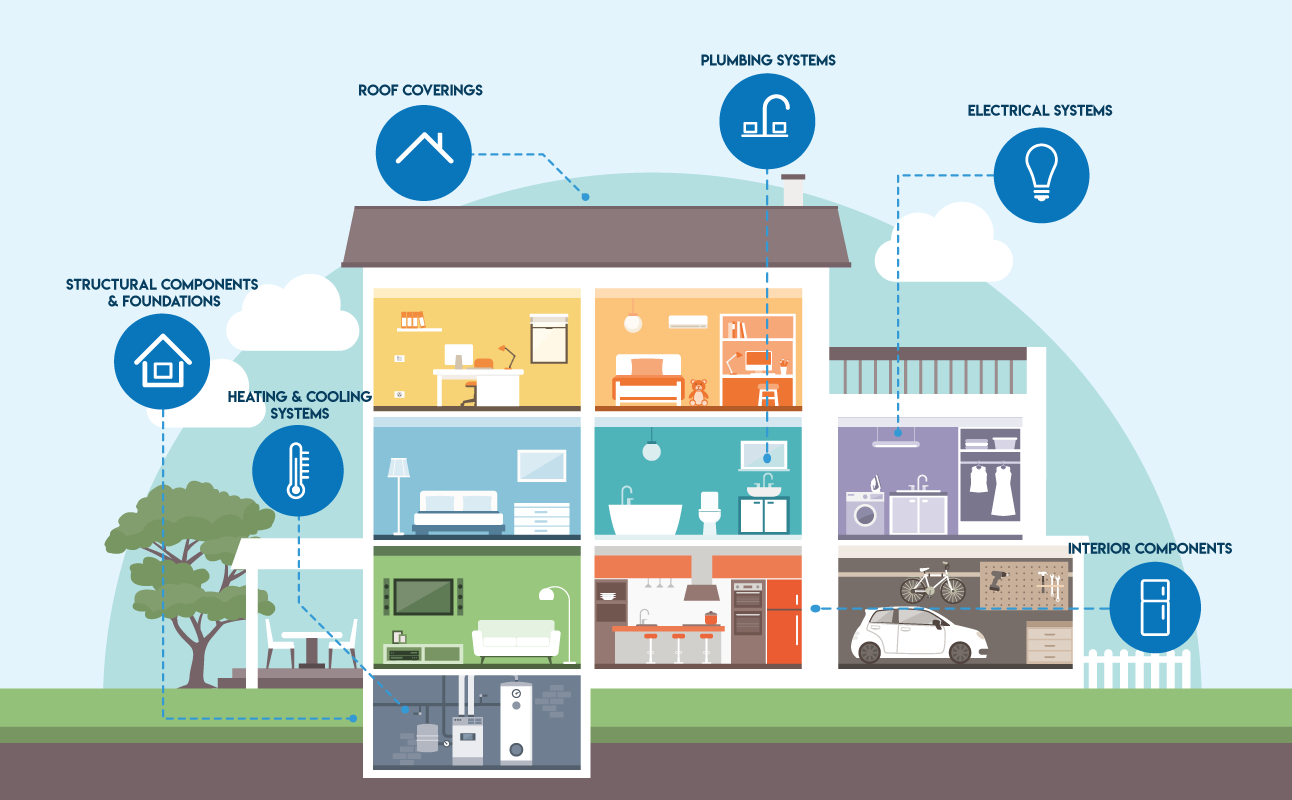 Outcomes of a Home Inspection
Now that your inspection is done there are often times actions that need to be placed. If issues arise during the home inspection the seller should,
Connect back with your realtor and review over repairs. Reevaluate the asking price of the home with inspector findings included.
Get a second opinion on any major home repairs and get an educated estimate around the cost of the repair.
Keep in mind, the buyer is the ultimate decision maker when it comes to making the necessary repairs. As a buyer you should consider,
Your budget & how future home repairs will play into your budget
Connect with your realtor & determine what your ideal offer would be considering inspection results.