After moving in, getting your new home prepared for daily life is the next step! Setting up cable & internet is typically a part of that process, and if you are not switching providers you should be able to set up your internet connection without having to wait on the cable company! If not, you may have to order a router & wait for it to be delivered by your provider before set up. To set up your new connection,
Connect All of the Wires
Plug your internet cable into the modems WAN or port router. This is typically on the back of the device, with a distinct shape. An example of the WAN or port router can be found on the below chart.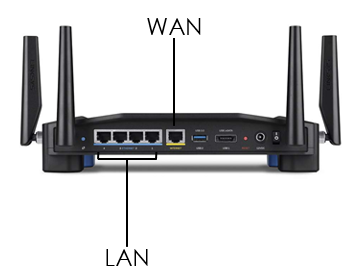 Check Your Connection
If you already have an internet provider, go ahead and launch an internet window on your device with Wifi connection enabled. If all is well you shouldn't need to take any more set up steps & your wifi should be functioning on all devices.
Launch Your Routers Setting Menu
In the address bar of your internet window, key in 192.168.1.1 or 192.168.0.1 and press enter. This is where you will determine your username & password for your wifi internet connection. Make your username something unique & easy to identify for guests coming into your home. Your password should be a series of uppercase and lowercase letters, with numbers and symbols as well to make it difficult to hack into. An example of what your setting menu looks like can be found below.
Find a Safe Place
Keep your router in a central location of the home is recommended to achieve the best results, and will likely have your internet connection functioning faster. Avoid places like a basement or a garage incase of any moisture leaks, and to avoid poor internet connection.