Keeping your home safe is a top priority for any new home owner, and investing in a home security system is a great option to do so. Benefits of investing in a home security system include,
Keeping Your Home Secure From Intruders: whether you are home with your family, or out of town having the peace of mind knowing your home is protected is priceless.
Controlling Your Settings Remotely: The vast majority of home security systems now offer apps or digital platforms allowing you to control settings while you are away from home.
Cost Savings:

Home Owners Insurance: You can typically receive a return on your investment of owning a home security system that is reflected your home owners insurance at about 10% on average. Connect with your insurance provider to let them know of your security installation and begin saving!
Utility Bills: With the remote ability on many security systems to adjust/turn off lights, and control the temperature or thermostat any our home saving on your utility bills can be made easy.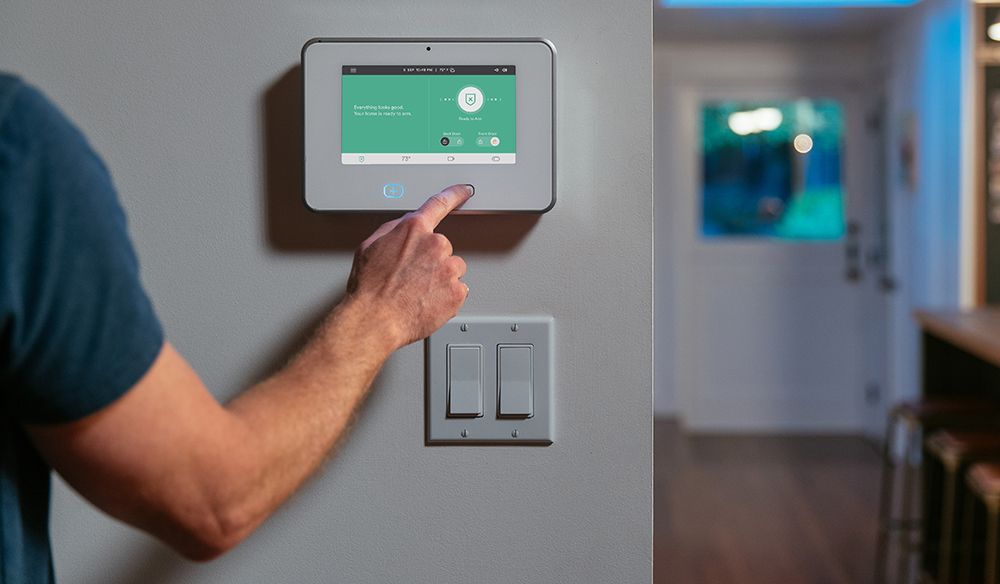 Finding the right home security system is the next step in beginning to protect your home. There are many factors to take into consideration when preparing to install your home security system if your new home is not already equipped with one.
Determine The Level of Security Your Home Needs
To determine your level of security, you first will want to consider,
The Size of Your Home: Consider the amount of square footage your home has to determine the level of surface area your security system will need to monitor. Camera features are often recommended for larger homes as they can be more difficult to monitor.
Where Your Home is Located: Did you know homes located on corner lots or on more prominent roadways are less likely to be broken into, where as homes located on cul-de-sacs or more secluded neighborhoods are more likely? Determine if your home seems like it would be a higher risk target for intruders to help choose your level of security.
Points of Entry: Did you know 34% of burglars use the front door of a home to break in? Consider how many front entryways your home has when deciding the level of security you are looking for for your home. Ground level windows on the first floor should also be considered when discussing break-in entry points.
Protecting Your Children: You may want to consider additional camera's for outside of children's bedrooms, or a system that is easy to navigate for children to turn on or off so they do not consistently set off the alarm.
Work With Your Monthly Budget
Levels of home security will typically range from basic to premium similar to a cable or internet package. Generally speaking packages will be broken out similar to the below,
Basic: The most limited option available, this plan will be the cheapest with the least amount of features. These plans often times will include your basic home control panel, 2 censors for entry points around your home, an alarm, and a yard sign to display to intruders. Basic plans can range from $300-400 upfront, with a range of $15-30/month.
Standard: This plan will offer everything a basic plan would with additional motion sensors and likely the option for cameras. It is likely that this is also the option that will offer remote monitoring of your home through a digital platform like an app for your phone. Standard plans can range from $450-700 upfront, with a range of $40-80/month
Premium: The highest grade plan, this is a great option for large home owners or those in very secluded neighborhoods. Premium options will be your go to if you are looking for live camera footage of your home, and will also offer remote access features. Premium plans typically start around $800 up front with a range of $90+ /month.
What Features Your System Offers
Frequent traveler? Live in an area with a lot of thunder storms? These are all factors to consider when preparing to install a home security system.
Remote Access: If you are someone who travels a significant amount, or have children who are often home alone having a plan with remote access is a great option.
Power Outages: Consider what type of home security connection you are looking for in case of inclement weather & power outages. A system that is connected to a cellular network v. an internet connection may be a better option for you if you live somewhere with unpredictable weather.
Medical Needs: Many in home security systems offer medical alerts. This a great feature to have if you are living with someone with a chronic medical condition, or an elderly family member. These will often come with a push device in the form of a bracelet, necklace, or button in case of emergency.
Resistance: Smashing security systems is a method many burglars use when targeting a home. Consider asking your provider about smash-resistant options for your home. You may also want to ask around water resistance if you live in an area at risk to floods.
Protecting your home is important to us here at MoveEasy. Let our personal moving concierges find your perfect home security system to keep you & your family safe in your new home.